Julie Driscoll, Otis Redding and Loose Ends
One of the people talking more sense than most about "the digital music revolution" is
Gerd Leonhard
. His book The
Future of Music
is fairly well-written and offers a well- considered model of how the music biz is going work in the digital environment, and how artists, labels and multimedia conglomerates (Universal, SonyBMG etc...) can all make a living. Worth checking out...
Also worth checking out is the new
Vitamin S website
, the online home of improvised music in Auckland. Photos, gig guides, mailing lists and even our own
theme song
!
And for those who don't know, the mp3 blog
the naughahyde life
is now operating under the moniker "
a bigger splash
", so
update your links
brothers and sisters.
Julie Driscoll and the Brian Auger Trinity - Tramp
From
A Kind of Love in 1967-1971
: Raven RVCD189
[Buy]
Otis Redding - Tramp
From
The Dock of the Bay The Definitive Collection
: Atlantic 9548-31709-2
[Buy]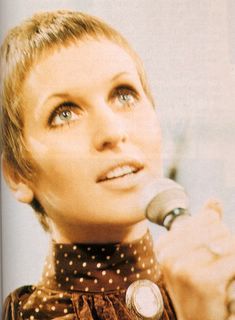 Julie Driscoll, definition of a retrobabe. She could sing too.


PS. Thanks to MKD for the Julie Driscoll/Brian Auger vinyl (the best dog-eared birthday present I got this year), and to Auntie Susan in the UK for the Otis Redding CD, (from many birthdays ago) which I am only now beginning to truly appreciate! Good things take time.